Northern Cyprus country information
Northern Cyprus country information
Flag of Northern Cyprus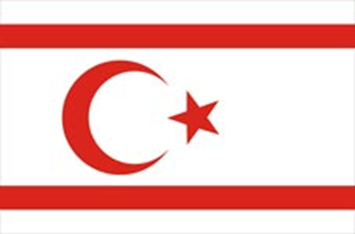 population
The population of Northern Cyprus is estimated to be 382,230 people in 2021, 50% of whom live in cities and 50% in villages. 99% of the people of Northern Cyprus are literate.
Language in Northern Cyprus
The Turkish language is the dominant language in Northern Cyprus, although in its Cypriot version, for example, in the Turkish language of Istanbul, the sentence "Napiyorzonus?" meaning "what are you doing?" is its Turkish Cypriot equivalent "Napan?" . English is widely spoken in Northern Cyprus as many Cypriots either live in England or have relatives there.
The official time in Northern Cyprus is naturally 2 hours ahead of Greenwich Mean Time (GMT/UTC) and 7 hours ahead of Eastern Standard Time (EST). To set the summer time, one must move forward one hour at 3 am on the last Sunday of March and turn back one hour at 3 am on the last Sunday of October.
Weather in Northern Cyprus
North Cyprus enjoys some of the warmest weather in the Mediterranean, and between 300 – 340 days of sunshine per year, due to its position further south than the other Mediterranean countries. This makes North Cyprus popular for visitors all the year-round. The winter is from mid-December until early March.
Electricity
In Northern Cyprus, there is electricity of 220/240 V AC with a frequency of 50 Hz. Most of the electrical sockets are three-pronged, but there may be two-pronged ones in places where it is possible. Most places in North Cyprus such as hotels, shopping centres and tourist resorts also have generators in place in case of an emergency outage.
Business hours
Summer
Winter
Shops
08:00-13:00, 16:00-19:00
09:00-13:00, 14:00-18:00
Banks
08:00-12:00, 13:00-16:00
08:00-13:00, 14:00-16:00
Public services
Monday :
07:30-14:00, 15:30-18:00
Tuesday to Friday : 07:30-14:00
Monday to Friday :
08:00-13:00, 14:00-17:00
Public holidays
| | |
| --- | --- |
| January 1 | New Year |
| February 1 – 4* | Eid al-Adha |
| April 23 | National Sovereignty Day and Children's Day |
| May 1 | Labor Day |
| May 19 | Atatürk Memorial Day and Sports and Youth Day |
| July 20 | The day of Turkish intervention, the day of peace and freedom |
| August 1 | Social Resistance Day |
| August 30 | Victory day |
| October 29 | Republic Day of Turkey |
| November 15 | Northern Cyprus Republic Day |
| November 3* | Eid al-Fitr |
The Northern Cyprus public holiday calendar is a combination of official patriotic ceremonies, including those related to Turkey, and religious holidays.
* Religious holidays change throughout the year according to the lunar year
The currency of Northern Cyprus
Symbol: TL (Türk Lirasi)
Banknotes: 200, 100, 50, 20, 10, 5, 1
Coins: 50, 25, 10, 5, 1
British pounds, dollars, euros and other common currencies can be easily exchanged in large stores and exchange offices. There is no limit to the entry of currency into North Cyprus, but the amount must be declared, but the exit of currency from North Cyprus includes a limit of 10,000 euros per person.
Presence and residence in North Cyprus
Generally, all countries can travel to North Cyprus without a visa. Foreigners can stay up to 30 days with the option to extend. Issuance of residence for foreigners is in no way a condition of permanent presence of people in North Cyprus and forced to live in this country. You can leave or enter North Cyprus at any time and for any period. After 5 consecutive years of residence, you can get a permanent residence in Northern Cyprus.
If you want to apply for a temporary residence in North Cyprus you can do it in three ways :
1- Through studentship: Foreigners who are studying in North Cyprus are obliged to hold a student residence permit. To apply for a student residence permit visit www.icisleri.gov.ct.tr
2- Work visa:
In order to apply for a work visa, it is absolutely necessary for the person to be present in North Cyprus. Along with the required documents for the applications, the company must submit the following: Passport copy of the employee and a letter of guarantee including names of both employee and employer.
3- Investing in North Cyprus:
Foreigners who own a villa or apartment in North Cyprus may be granted a 1 year renewable residence permit for the first 3 years, and thereafter 2 years renewable permit provided they have obtained the title deeds (Kocan) registered in their name.
Note: People under 18 years old and over 60 years old do not need to get a residence visa.
Flights to Northern Cyprus
Ercan Airport is the main entry point for travellers to Northern Cyprus. Alternatively travellers can fly to Larnaca or Paphos Airport and cross the border to North Cyprus.
Economy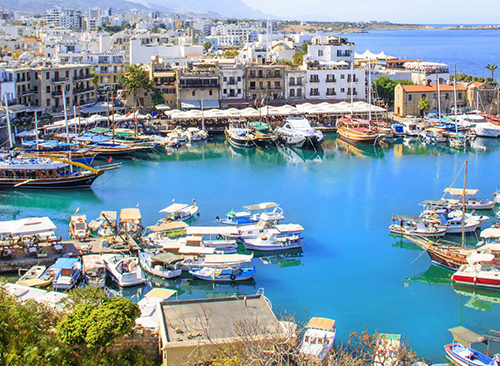 Northern Cyprus's economy operates on a free-market basis, with a significant portion of administration costs funded by Turkey.
The economy of North Cyprus is comprised of the service sector including the Public, Trade, Education and Tourism sectors as well as the small agricultural and manufacturing sectors. Tourism and education are vital for the economy.
The city of Kyrenia (Girne) is one of the main tourist destinations in Northern Cyprus. Esentepe, Famagusta and Lefkosa (the capital of North Cyprus) are also popular tourist destinations.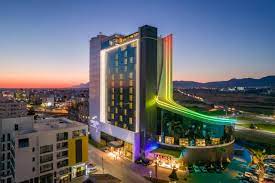 Tourism industry

Tourism is considered as one of the leading sectors in the economy of Northern Cyprus. The country welcomed more than 1.1 million tourists in 2012, with hotels and restaurants generating $328 million in revenue and accounting for 8.5% of GDP. Accommodation and catering units created more than 10,000 jobs this year. In the years 2000 to 2010, the tourism sector has faced many developments and the number of tourists has more than doubled. It has also seen an increase in investment in the construction of hotels. Official estimates show tourism revenue in 2013 to be around US$700 million and the total accommodation capacity to be around 20,000 people.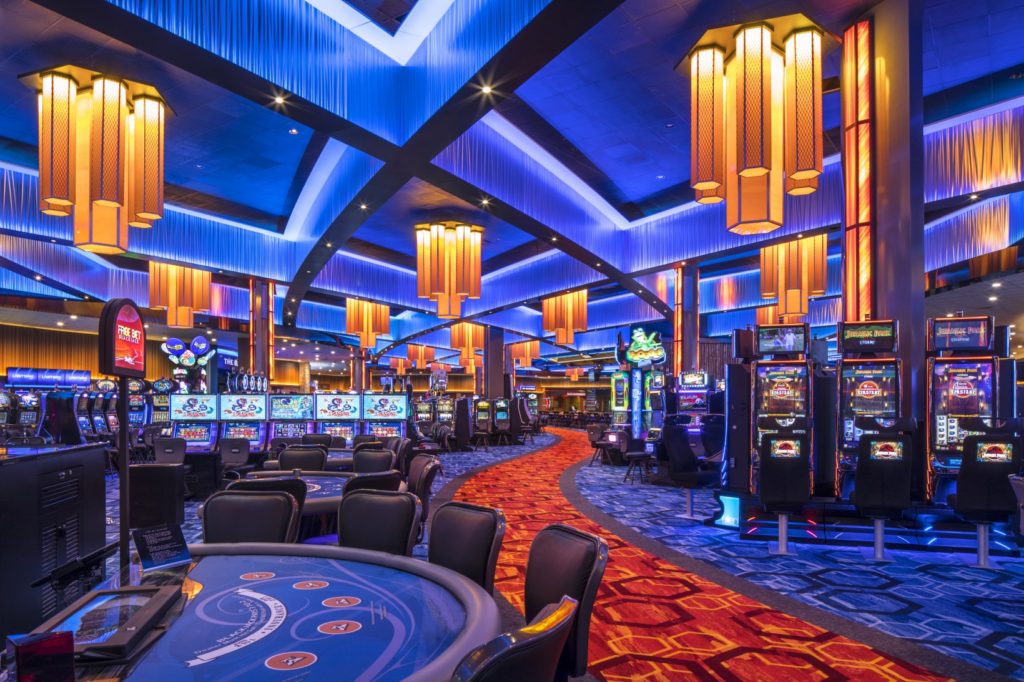 Kyrenia is known as the tourism capital of Northern Cyprus with numerous hotels, entertainment facilities, nightlife and shopping centres. In 2012, 62.7% of North Cyprus tourists stayed in Kyrenia. In 2013, out of 145 hotels in North Cyprus, 99 hotels were located in Kyrenia.
Famagusta has long been famous for its sandy beaches. Some beaches belong to hotels and have an entrance fee, but there are also public beaches with entertainment and accommodation facilities. The beaches of this area are very safe and beautiful and have excellent spots for swimming and other water sports and activities.
Northern Cyprus traditionally has holiday attractions that add to its reputation as a safe area. Its mild climate, rich history and attractive nature are a significant part of the development of the tourism industry in North Cyprus, for example tourists enjoy bird watching, cycling, walking and observing flowers and plants in the pristine nature of the Karpaz Peninsula area. Enjoy Bafra tourist areas with very luxurious and large hotels built in 2014 or Kantara Natural Park are good hosts for receiving tourists.
Casino tourism has also grown significantly over the years to gain a large share in the economy of Northern Cyprus. Casinos were first opened in the 1990s and since then have attracted many visitors from Turkey and other countries, which has led to large investments in the casino sector.
Casino
With more than 20 large casinos across the country, North Cyprus has become a small version of Las Vegas in the region, which makes this country ideal for gambling and betting enthusiasts. Many casinos are located inside hotels, along with all kinds of games such as poker, blackjack, roulette, slot machines etc. Many famous international singers come to some casinos to make the night as memorable as possible.
Gambling is illegal in many countries therefore many people travel to North Cyprus to satisfy their needs. In fact, a law in 1975 allowed betting and gambling in casinos in North Cyprus, but it was only in the 1990s that gambling and betting became really popular and the construction of more and bigger casinos began. The industry has become one of the biggest entertainment attractions in Northern Cyprus.